Laboratory of Monitoring of Water Physical and Chemical Properties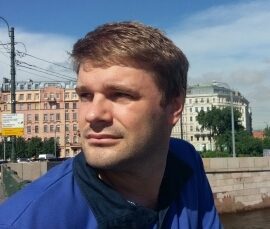 Anton Anatolyevich Artamonov
PhD (University of Oulu, Finland), Chief of the Water Institute.
The laboratory monitors physical and chemical properties of water. The main measurement tool is a portable electrochemical complex. The measuring complex includes two electrochemical cells (one cell with platinum electrodes, the other with stainless steel electrodes). The cells are filled with chemically pure water. In addition to electrochemical cells, the measuring complex includes a constant voltage source, DAC / AD converter. The measuring complex allows to measure in real time currents flowing in electrochemical cells, that help to estimate the intensity of electrochemical reactions in water. The measuring complex with electrochemical cells is a sensitive detector to various environmental factors that can directly or indirectly affect on water.
The laboratory conducts scientific and search work in the field of water physics.
The main tasks of the laboratory are:
Сontinuous monitoring of physical and chemical properties of water.
Statistical analysis of data, assessment of the state and dynamics of changes in water properties.
Simulation of various impacts of the environment and technogenic factors.
Assessment of intensity of various physical factors effect on the physical and chemical properties of water.
Creation of special-purpose waters with predetermined physical and chemical properties.
Conducting of search studies.
Verification and analysis of experimental materials.
Searching for correlations between water properties and environmental factors.